I've spent most of my fundraising and professional career in digital and tech so I spend a lot of my time in conversations about, well, tech, digital, and the future. What's changing on Facebook? What's next with mobile? How will philanthropy be different with Millennials? And while I have some opinions – Facebook has a 'new' Donate Now button (don't get too excited), direct response from mobile is just starting, and it will be more about what Millennials get out of charity – altruistic or otherwise – it's just that – opinions and speculation.
---
This post originally appeared on recharity.
When I'm asked these questions or think about the future of fundraising, I'm reminded of a great Jeff Bezos quote: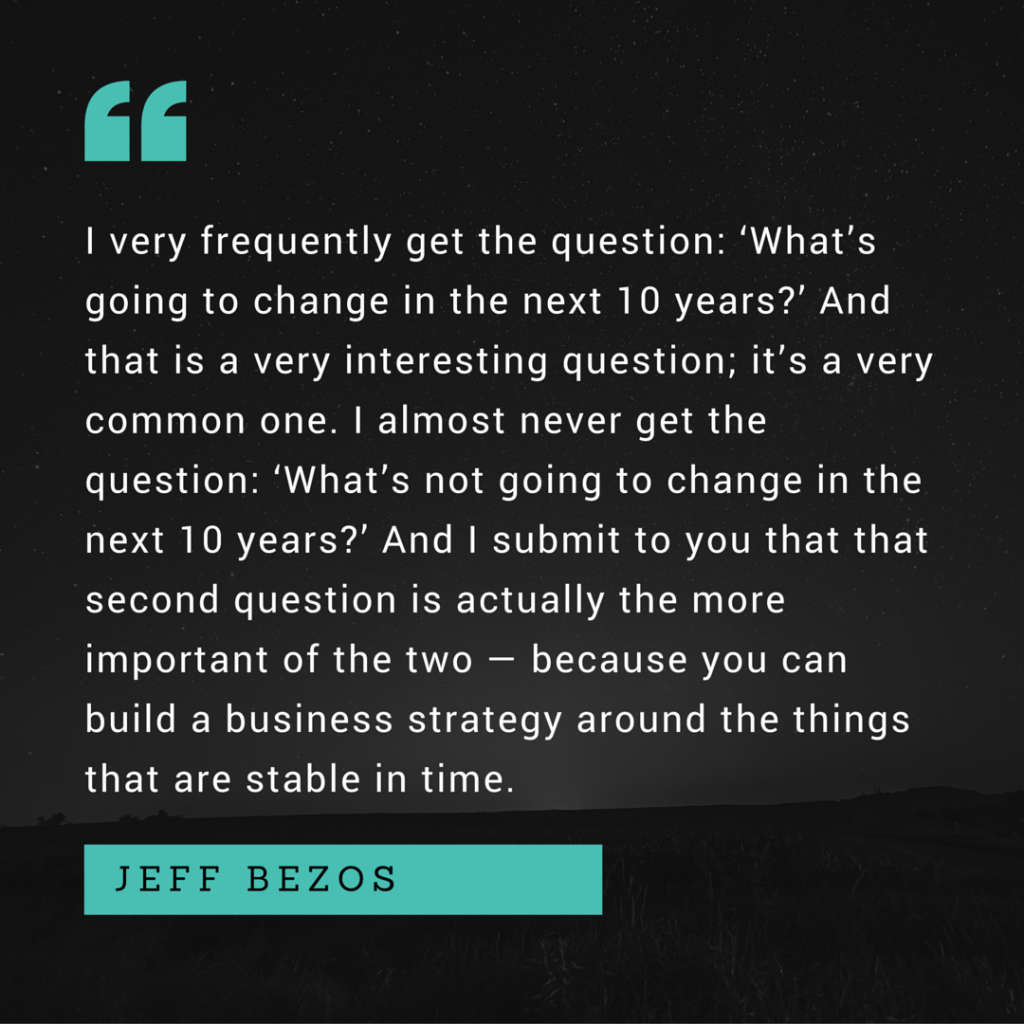 Brilliant.
I think we can often get so wrapped up in the next tool, the next 'it', the next solution to all our problems when it comes to fundraising that we lose track of the things that won't change. As much as there is a rise in things like social entrepreneurship, benevolent capital, impact investing, social ventures, and so on, the reality is there will always be needs that business can't solve – not in profitable ways at least. So there will be charitable organizations trying to bridge that gap and (hopefully) generous people willing to provide resources to fuel them.
So let's assume that a $350 Billion per year industry, in the US, just won't go away in the next decade – what will be a constant? For me, there are two things that organizations can focus on today, tomorrow, and 10 years from now:
2 Things You Can Do To Be A Better Organization In 10 Years
1. Know Your Supporters
I don't just mean donor/customer profiles. Or know when someone made their last gift (although those are both useful when it comes to marketing and fundraising). But what makes them tick. Why do they give?
Why do they continue giving or stop giving? What do they care about? What do they see in you that is worth their time, money and resources?
It's the answers to these questions that will really open up insights into who people are. More than that, it's your desire to have these answers and ability to get them that will really separate you and sustain you for the next decade. Because then it becomes a practice. A process. A value. And those can live longer than your Director of Development.
2. Care For Your Supporters
It costs nothing to care. Okay, thank you cards, phone calls, emails, and coffees do have some costs, and they take time, but by and large, it costs very little to care (that's just not as good of a lead statement). And yet, that's really all that donors want.
Donors want to be acknowledged and respected for the difference they are making int he world. That's donor care. And we don't need fancy Facebook algorithms, new tech platforms or an app to do it.
Often the caring of donors falls on individual people or perhaps some teams, but real donor care needs to be bigger than a person, a group of people, or teams. It needs to be woven into the very fabric of organizations.
Do you believe that donors are the reason you exist, that you have a job, and that your clients/customers can get the services and support they need? Or do you believe they exist to support you? That it's your right to get their donations every year?
I think if we're really honest with ourselves, we don't always have a 'donor care' viewpoint which then infiltrates all of our marketing, communications, and fundraising.
A Story…
This story comes from a student in the Annual Giving class I'm teaching. When he shared it as we were discussing 'equity in stewardship', I was inspired and think it relates here:
After about six months of reviewing incoming donations there was one I would see made twice a month for $2.50. I would just glance at that figure and say to myself – "why so little, why even bother?" I then asked someone on staff about this donor. They said he had been donating in that manner and that amount for a couple of years and that he worked at a local hotel in the maintenance department and was an immigrant trying to help his family back in Mexico.

I finally was able to meet this donor when our organization did an event at the hotel he worked at. He told me that he was a client of our agency a few years ago and that we helped him get back on his feet including getting the job he has now. He said he wanted to show his appreciation for our services so he wanted to make sure he set aside $5 a month to donate to our organization. He probably made just a little over minimum wage but he had a lot of pride and felt he in essence owed our organization something.

He gave what he could be it made him feel good about himself that he was in a position though minimal to show his appreciation and gratitude to our organization. I actually felt bad that he donated that money to our organization because within a year that was $60 that I am sure he and his family could use but again it was important to him to donate that money to our organization.
In 10 years, I don't know if Apple will have a new payment system, if Facebook will be obsolete, or if 'crowdfunding' will still be a thing, but I know there will be good people, giving $5 per month to good causes they believe in.
The question is: will you know who they are and care for them?
So…
If you want your organization to be a strong, sustainable, and successful one in 10 years, don't worry so much about what will change and stop trying to predict the future. Instead, focus on what will remain constant – knowing and caring for your supporters – and invest your time, energy, and resources on that. Build systems, teams, and processes that make knowing them and caring for them as easy as asking and receipting them. And don't let anyone slip through the cracks. Good luck!